School Education, Government of Uttarakhand invited applications for the approx 2000 Vacancies of Primary Teacher or PRT in Govt Primary Schools operated in all the districts (Almora, Bageshwar, Chamoli, Rudraprayag, Haridwar, Pauri, Dehradun, Tehri Garhwal, Udham Singh Nagar, Uttarkashi, Pithoragarh, Champawat and Nainital). All eligible male and female candidates can apply for the Govt Primary Teacher Vacancies in the prescribed application format provided by the respective DEO. Uttarakhand Primary Teacher PRT Recruitment 2020-2021 as district wise vacancy details, eligibility, selection process, application form, merit list, selection list, result etc latest information is being given below.
Uttarakhand Govt Primary School Teacher Posts 2020-2021

Latest Update – Publication of district-wise recruitment notices for the approx 2000 Vacancies (posts) of Uttarakhand Primary Teacher (Basic) have been started through the local newspapers. Candidates applying for the posts of Assistant Teacher Primary must be registered/ renewed in any employment office of the state of Uttarakhand before the last date to apply. All the latest news (information) about the Uttarakhand Primary Teacher Recruitment 2020-2021 has been updated on this page.
Candidates who have passed their High School and Intermediate or equivalent level of education from recognized institutions located in the State of Uttarakhand will be eligible to apply for the direct recruitment posts of Group C.
See also: Uttarakhand LT Assistant Teacher TGT Recruitment
The UK Education Department has initiated the recruitment process for the selection of Assistant Teacher Primary. The Primary Teacher (Basic Teacher) Recruitment 2020-2021 will be for approx 2000 Vacancies. Recruitment notice for these Primary Teacher posts is being released by all the districts separately. District-wise vacancy details or number of Basic Teacher (D.El.Ed/ B.Ed TET-1 pass) vacancies is being updated below.
Total Number of Vacancies – 2000 Posts (approximately)
District wise Primary Teacher Vacancy Details
District-wise Primary Teacher vacancies are as follows (updated) (check back later for the remaining districts):
Almora – 418 Vacancies (UR-221, EWS-42, OBC-59, SC-79, ST-17)
Bageshwar – 200 Vacancies
Chamoli – 369 Vacancies (UR-195, EWS-37, OBC-52, SC-70, ST-15)
Pithoragarh – 220 Vacancies (UR-117, EWS-22, OBC-31, SC-42, ST-08)
Rudraprayag – 200 Vacancies (UR-106, EWS-20, OBC-28, SC-38, ST-08)
Tehri Garhwal – 273 Vacancies (UR-145, EWS-27, OBC-38, SC-52, ST-11)
Uttarkashi – 212 Vacancies (UR-113, EWS-21, OBC-30, SC-40, ST-08)
Champawat – 67 Vacancies
Udham Singh Nagar – 72 Vacancies
Pauri Garhwal – 162 Vacancies
Dehradun –
Haridwar –
Nainital –
सहायक अध्यापक प्राथमिक के पद पर भर्ती हेतु विज्ञापित पदों में से 50 प्रतिशत विज्ञान एवं 50 प्रतिशत विज्ञानेत्तर के होंगे। विज्ञान विषयक के पदों के अन्तर्गत 40 प्रतिशत पद स्नातक स्तर पर भौतिक विज्ञान व गणित से विज्ञान स्नातक उत्तीर्ण अभ्यर्थियों हेतु एवं 40 प्रतिशत पद स्नातक स्तर पर रसायन विज्ञान, वनस्पति विज्ञान व जन्तु विज्ञान विषय से विज्ञान स्नातक उत्तीर्ण अभ्यर्थी एवं 20 प्रतिशत पद ऐसे स्नातक योग्यताधारी अभ्यर्थियों जो उक्त विषयों से इतर अन्य विषयों से विज्ञान स्नातक हैं, अथवा जिनके द्वारा डी.एल.एड प्रवेश परीक्षा विज्ञान वर्ग के अन्तर्गत उत्तीर्ण की है, हेतु आरक्षित रहेंगे, विज्ञानेत्तर विषय के पदों के अन्तर्गत 15 प्रतिशत पद अंग्रेजी भाषा के लिए स्नातक स्तर पर अंग्रेजी मुख्य विषय के साथ उत्तीर्ण अभ्यर्थियों हेतु एवं 15 प्रतिशत पद हिन्दी भाषा के लिए स्नातक स्तर पर हिन्दी मुख्य विषय के साथ उत्तीर्ण व न्यूनतम इण्टर स्तर पर संस्कृत विषय वाले अभ्यर्थियों के लिए तथा 70 प्रतिशत पद अन्य मानविकी वर्ग के अन्य विषयों से स्नातक योग्यताधारियों अथवा ऐसे अभ्यर्थी जिनके द्वारा डी.एल.एड प्रवेश परीक्षा विज्ञानेत्तर वर्ग के अन्तर्गत उत्तीर्ण की है, हेतु आरक्षित होंगे।
See also: UKSSSC Samuh G Recruitment Group C Posts Uttarakhand
Eligibility Criteria (Age and Qualification)
Age Limit – 21 to 42 years as on 01.07.2020 (Relaxation in age as per Govt rules).
Educational Qualification:
Two year Diploma in Elementary Education (D.El.Ed) from any District Institute of Education and Training (DIET)/ District Resource Center (formerly known as BTC in Uttarakhand state). OR
Its equivalent 02 years Diploma in Elementary Education (D.El.Ed)/ 04 years B.El.Ed OR Graduation with 50% marks and Bachelor of Education (B.Ed)/ 02 years Diploma in Education (Special Education) from NCTE recognized institute but a person appointed as a teacher to teach from class 01 to 05 will have to complete 06 months bridge course in Elementary Education recognized by NCTE within the interval of 02 years after being appointed as a primary teacher.
See also: Uttarakhand D.El.Ed Application Form and Exam Updates
It is mandatory to pass the Teacher Eligibility Test (UTET-1/ CTET-1) conducted by the State/ Central Government under the guidelines set by the National Council for Teacher Education (appointment letter will be issued only on submission of original mark sheet).
See also: UTET Online Application Form, Eligibility and Exam Updates
Primary Teacher Selection Process
The Primary Teacher selection process will be completed under the provisions mentioned in the Uttarakhand Government Elementary Education (Teacher) Amendment Service Rules, 2012 revised Service Rules-2019. Candidates (B.Ed) will be selected as an Assistant Teacher Primary (Sahayak Adhyapak) on the basis of training year seniority and merit calculated as per the method given below. The combined seniority list will be prepared on State level and districts will be allotted to candidates in order of their preference, seniority and merit. The Selection & Recruitment Process is also known as Vishisht BTC/ Special BTC/ VBTC and the previous recruitment was advertised in Feb 2016.
The marking of the application form of candidates will be done by the selection committee to check the attached academic/ training and other certificates from the original records of the concerned, the date of which will be communicated through a separate release.
Merit/ Index/ Gunank Calculation Method (B.Ed)
High School (10th) – (Marks% x 0.75) ÷ 10
Intermediate (12th) – (Marks% x 1.5) ÷ 10
Graduation – (Marks% x 2.25) ÷ 10
B.Ed/ B.Ed (Special Education)/ D.Ed (Special Education) Training
Theory – (Marks% x 3) ÷ 10
Practical – (Marks% x 1.5) ÷ 10
TET Class 1 to 5 (CTET-1/ UTET-1) – (Marks% x 1) ÷ 10
See the image below for the Primary Teacher Merit/ Index/ Gunank calculation method.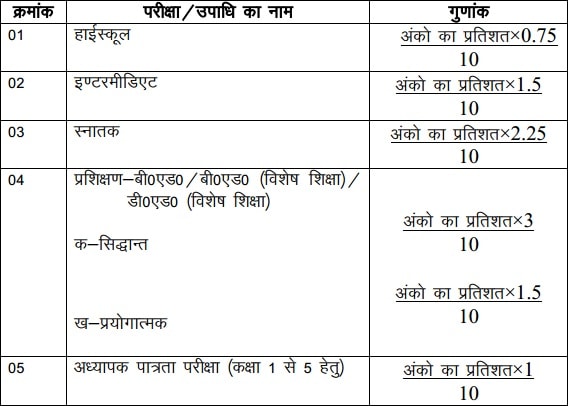 Uttarakhand Primary Teacher Application Form
Eligible and desirous candidates can apply for the Uttarakhand Govt Primary Teacher Recruitment on the prescribed application format (offline) as provided by the respective DEO in the recruitment notice. It's required to fill up the marks details of theory and practical subject separately under the educational and training qualification in the application form.
Send application form complete in all respect along with self-addressed envelope affixing postage stamp of Rs 30 and self-attested copies of supporting documents as educational certificates, marks sheets, caste certificate, employment office registration certificate, domicile certificate etc by Registered Post/ Speed Post to respective DEO Office (see address in the recruitment notice below) so as to reach on or before the last date.
On the envelope containing application form, must be mention in bold letters as "Assistant Teacher Government Primary School District ________ Advertisement number _________ and Category _________".
Last date of receipt of Application form (District-wise):
Almora – 07.12.2020 (05.00 PM)
Bageshwar – 05.12.2020 (05.00 PM)
Chamoli – 20.12.2020 (05.00 PM)
Pithoragarh – 07.12.2020 (05.00 PM)
Rudraprayag – 10.12.2020 (05.00 PM)
Tehri Garhwal – 15.12.2020 (05.00 PM)
Uttarkashi – 26.12.2020 (05.00 PM)
Champawat – 18.12.2020 (05.00 PM)
Udham Singh Nagar – 30.12.2020 (05.00 PM)
Pauri Garhwal – 31.12.2020 (05.00 PM)
For application form and other details about Uttarakhand Primary Teacher Recruitment, download the official advertisement or notification (vigyapti) (district-wise) through the links below. Stay connected for the notification for the remaining districts.
Primary Teacher Application Format
Almora Primary Teacher Recruitment
Bageshwar Primary Teacher Recruitment
Chamoli Primary Teacher Recruitment
Pithoragarh Primary Teacher Recruitment
Rudraprayag Primary Teacher Recruitment
Uttarkashi Primary Teacher Recruitment
Champawat Primary Teacher Recruitment
US Nagar Primary Teacher Recruitment
Pauri Primary Teacher Recruitment
See also: Uttarakhand Govt All Recruitment and Exam Updates
Uttarakhand Primary Teacher Merit list and Result
Update – Uttarakhand School Education department has released district wise list of B.Ed/ D.El.Ed candidates applied for the Primary Teacher Recruitment 2020-2021. All applicants can check their application details by downloading the list in xls format below (check back later for other districts).
Applicants list for Almora
Applicants list for Pauri Garhwal
Applicants list for Pithoragarh
Applicants list for Rudraprayag
Applicants list for Bageshwar
Applicants list for Chamoli
Applicants list for Tehri Garhwal
Applicants list for Uttarkashi
Applicants list for Champawat
Applicants list for US Nagar
Uttarakhand School Education Department will release the Primary Teacher Merit list/ Selection list/ Result soon for the approx 2000 Basic Teacher Recruitment through schooleducation.uk.gov.in. All aspirants can check the category-wise (GEN/ EWS/ OBC/ SC/ ST) Merit lists for Science/ Arts/ Urdu by downloading from the links provided below (to be updated).
Thereafter all selected candidates will have to appear for conselling at DEO Office of alloted district along with all original documents. Check back later for more information about the Primary Teacher Selection list, Merit list, Result, Waiting list, counselling etc latest news updates.
Conselling date – to be updated
Science GEN Merit list
Science SC Merit list
Science ST Merit list
Science OBC Merit list
Arts GEN Merit list
Arts SC Merit list
Arts ST Merit list
Arts OBC Merit list
Urdu GEN Merit list
Urdu SC Merit list
Urdu OBC Merit list
See also: Uttarakhand Ashaskiya School Lecturer and LT Vacancies
See also: UKSSSC 854 VDO VPDO Graduate Level Recruitment
Search any information available on this site by the help of search box above. You may visit later on this page for more updates related to the current and upcoming Uttarakhand Primary Teacher Recruitment, Sahayak Adhyapak, Basic Teacher Vacancy, PRT, B.Ed TET Jobs, VBTC Uttarakhand etc.