We (Dyarakoti Media and Services) are thrilled to announce that DyarakotiJobs.com is undergoing a significant transformation and will now be known as DyarakotiUK.com.
With this domain change, we are expanding our scope beyond job listings to become a comprehensive platform for all your career needs, as well as a reliable source for government job updates, exam updates, news and a wide range of web services and local services. In this article, we will share the exciting details of this transition and how it will benefit our readers and customers.
A Holistic Career and Information Hub
DyarakotiUK is no longer limited to job listings alone. We are now your go-to destination for all your career-related needs, as well as a reliable source of government job updates, exam notifications, news and various web and local services. Whether you are looking for a job, seeking exam information, staying updated with the latest news, or availing useful services, DyarakotiUK has got you covered.
Up-to-Date Government Job Updates
We understand the importance of government job opportunities and the demand for accurate and timely information. With the domain change, DyarakotiUK will provide comprehensive and up-to-date government job updates, covering various sectors and regions. Stay informed about the latest vacancies, eligibility criteria, application processes, and exam notifications to seize the best opportunities.
Exam Updates and Notifications
Preparing for exams can be a challenging task, and staying updated with exam notifications is crucial. DyarakotiUK will now keep you informed about upcoming exams including recruitment exams, entrance tests and competitive examinations. Get access to exam syllabus, important dates, application details and preparation tips to boost your chances of success.
News from Around the World
In addition to career-related information, DyarakotiUK will feature news articles covering a wide range of topics. Stay informed about the latest happenings in govt sector, business, education, technology, entertainment and more. Our goal is to provide you with a well-rounded perspective on current affairs, keeping you informed and engaged.
Web Services and Local Services
We are expanding our offerings to include web services and local services. Whether you need assistance with website domain name registration, hosting, web development, content creation, graphic design, SEO or require local services, our platform will provide you secure and reliable services. Expect a seamless experience in finding the services you need, all in one place.
The services are designed to support and promote local businesses within their communities. From online presence to advertising and marketing campaigns, we help local businesses increase their visibility and attract potential customers.
The domain change from dyarakotijobs.com to dyarakotiuk.com signifies a significant expansion of our platform, offering a comprehensive range of career-related resources, government job updates, exam notifications, results, news articles, web services and local services.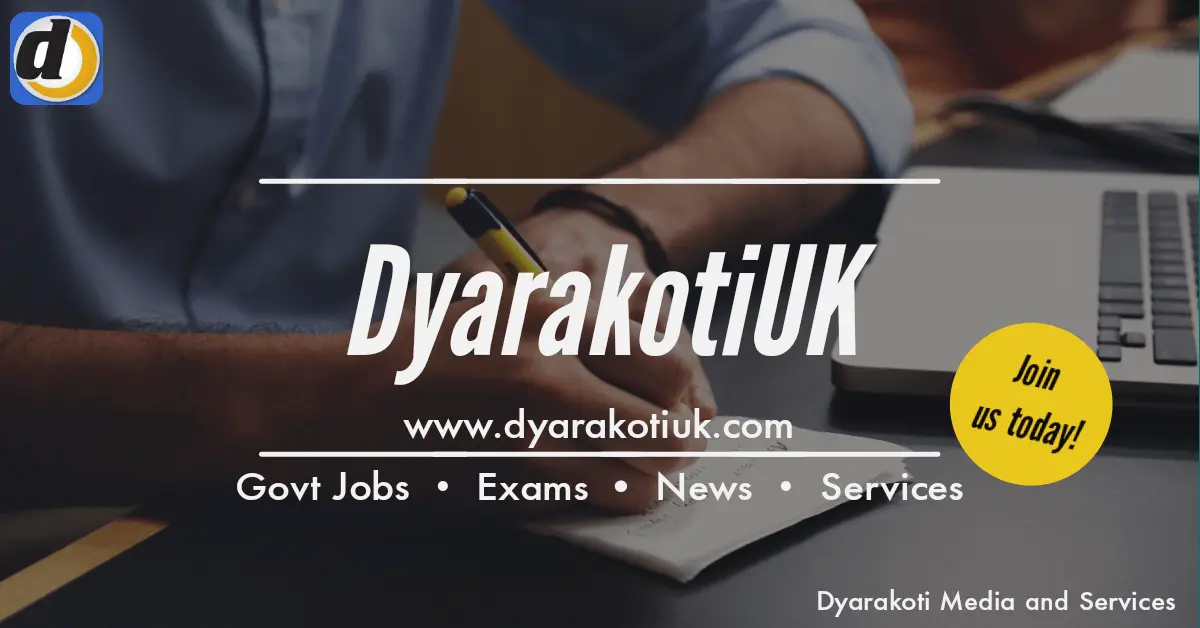 Embrace this transformation and explore DyarakotiUK.com to access a wealth of information, services and opportunities. We are dedicated to being your trusted information and service hub, helping you stay informed every step of the way and navigate your business journey.
Know more about us and our offerings & services on the official page. Stay connected!